Setting up IKEv2 VPN access through Blackberry Playbook.
The following setup tutorial will guide you through a manual connection of an IKEv2 VPN connection on Blackberry Playbook devices. The setup of an IKEv2 connection involves the installation of a certificate file. You will need to have the Blackberry Playbook link manager installed on your computer.
1. Download and extract the Certificate file
Download and extract our Blackberry certificate file to a good location on your computer.
Click here to download our certificate file.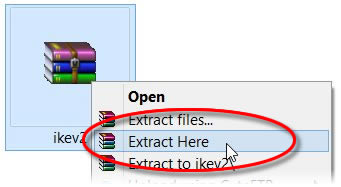 2. Blackberry Settings
Click onto the settings icon on your Blackberry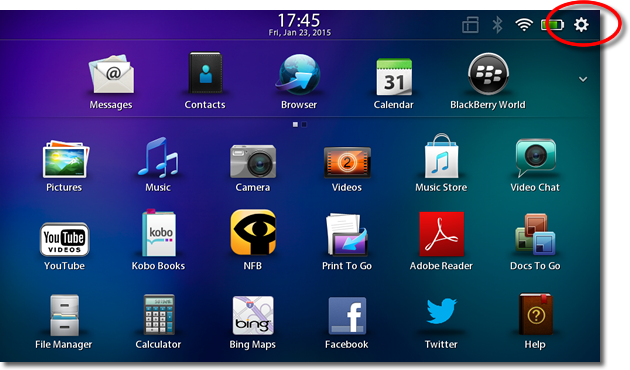 3. IP Address
You now need to find your Blackberry Playbook IP address in order to connect to it from your computer. To do this click onto 'About' > then change the information dropdown top Network and you will see your IPv4 IP Address in the Wi-Fi section.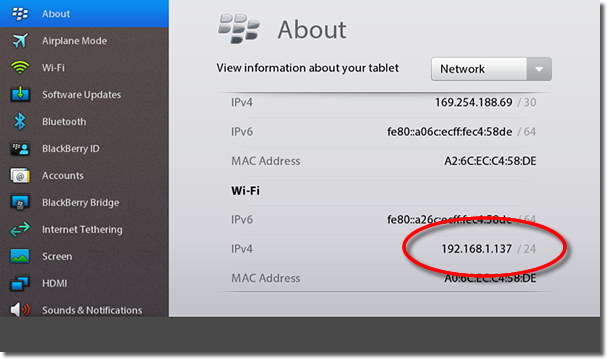 4. Enable Sharing
Go to 'Storage & Sharing' and ensure 'File Sharing' and 'Wi-Fi Sharing' is enabled. You may need to restart the Playbook once these are enabled.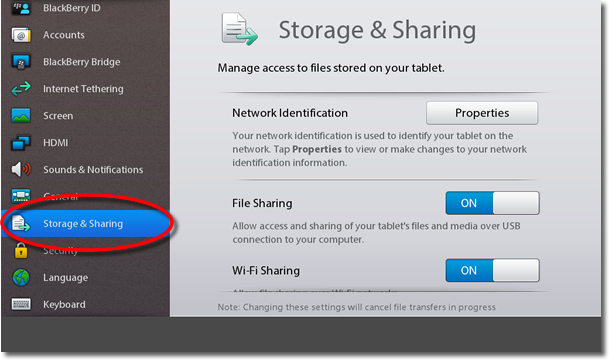 5. Connect to Playbook
Go to Run on a PC or Network on a Mac and connect to your Playbook by entering the IP Address in the following format '\\IP Address'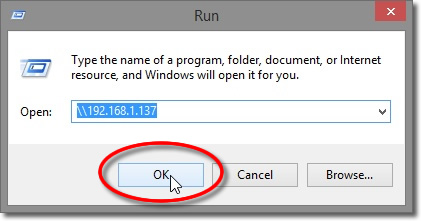 6. Certificates Folder
Open the Certificates folder on your connected Playbook.

7. Drag and Drop
Drag the IKEv2.cer certificate file that you downloaded earlier to the 'Certificates' folder.

8. Import Certificate
We can now import the certificate to the Blackberry Playbook 'Certificates' store.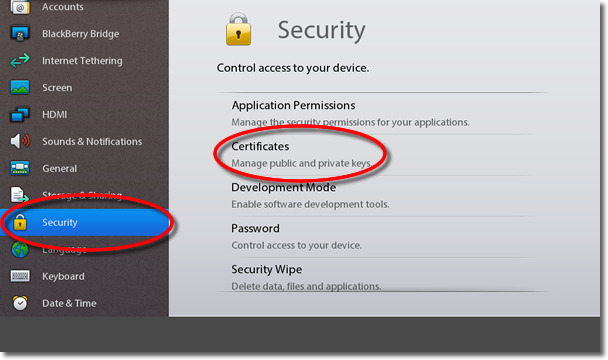 9. Import
Click onto the 'Import' button.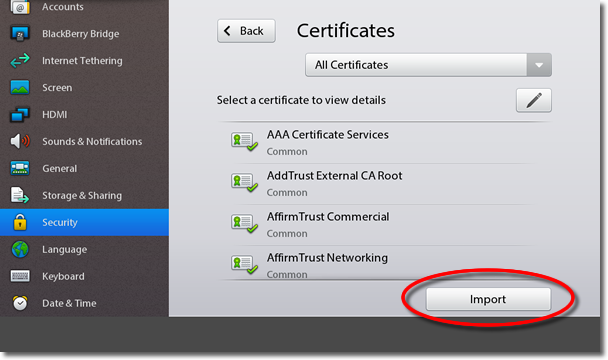 10. Choose Store
Choose the 'VPN' certificate store and click onto the 'Next' button.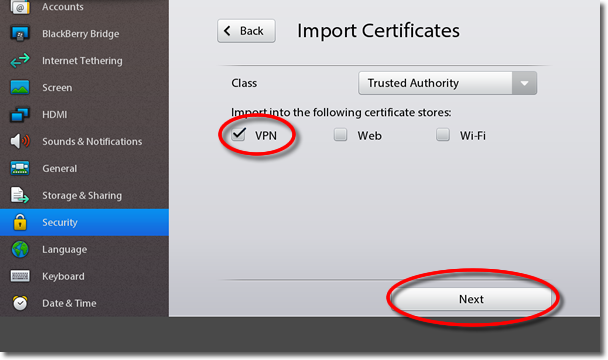 11. Select certificate
Highlight the certificate you hae imported to the certificates folder and then click onto the 'Import' button.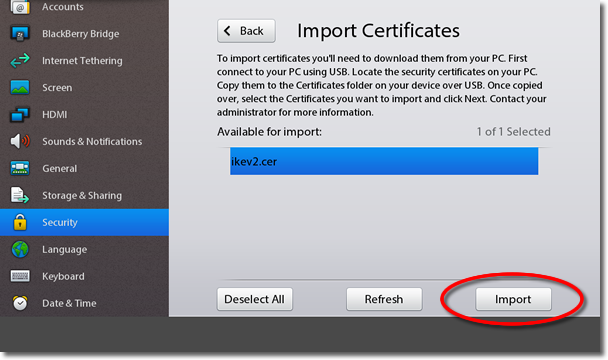 12. Confirm
You can confirm the import was successful by scrolling down your certificates, you should see 'VPNUK Root CA'.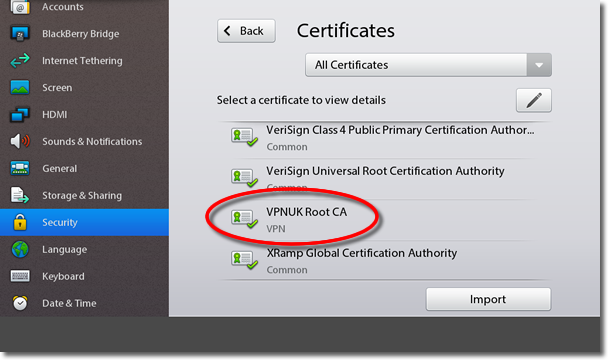 13. Create VPN Connection
We can now create the VPN copnnection. Go to 'Securty' > 'VPN'.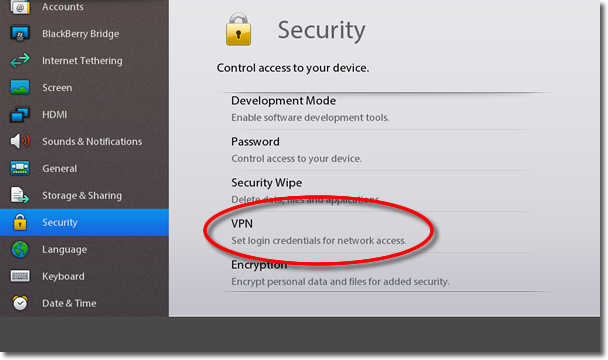 14. Add New
Click onto the 'Add New' button.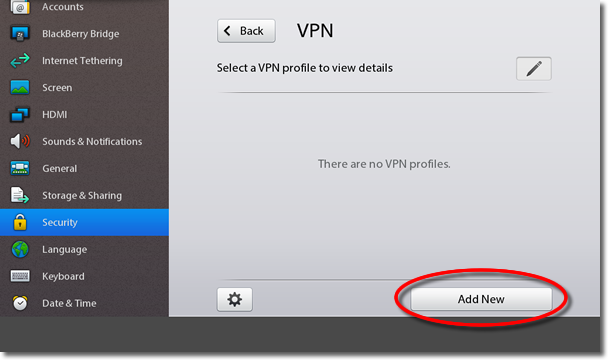 15. Profile Details (Pt1)
Enter the Following details.
1. Profile Name: Anything
2. Server Address: Enter your chosen 'Server. You can find the server address in your 'Welcome to VPNUK' email and also in your client control panel on the VPNUK website.
3. Gateway Type: Generic IKEv2 VPN Server.
4. Authentication Type: EAP-MSCHAPv2.
5. Authentication ID Type: Email Address.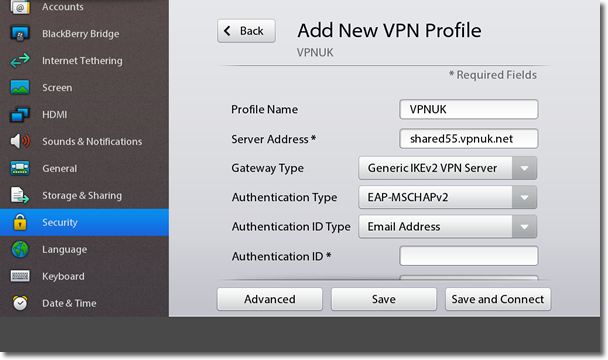 16. Profile Details (Pt2)
Enter your VPNUK login username into all three of the 'Authentication ID, MSCHAPv2 EAP Identity and MACHAPv2 Username' fields. Enter your VPNUK Password into the 'MSCHAPv2 Password' field.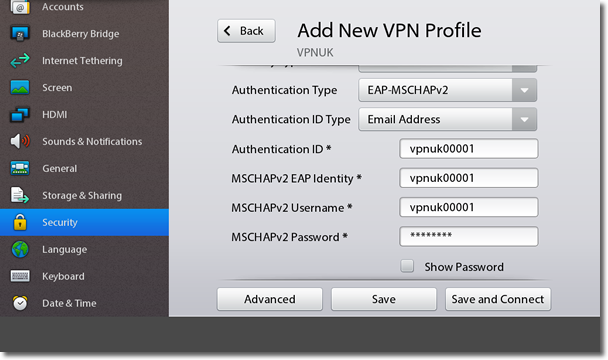 17. Profile Details (Pt3)
Enter the following details
Gateway Auth Type: PKI
Gateway Auth ID Type: Fully Qualified Domain Name.
Gateway Auth ID: Enter the same server address as you entered into the 'Server Address' field.
Gateway CA Certificate: Choose 'VPNUK Root CA'.
Perfect Forward Privacy: 'Enabled'.
Then click onto the 'Save' or 'Save and Connect' button.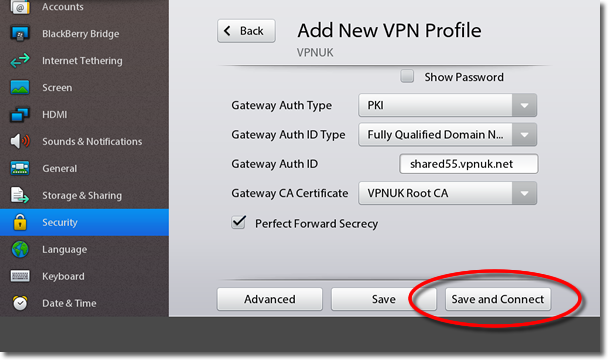 18. Connected!
You should now be connected to the VPNUK Service.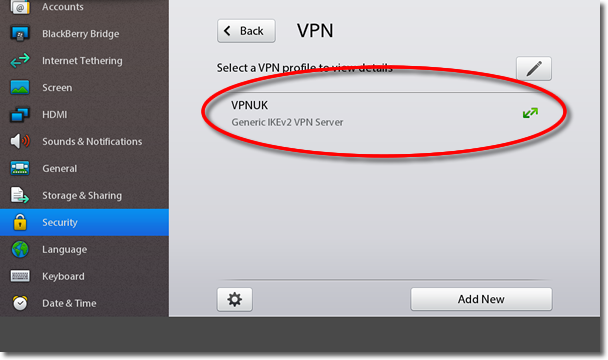 Troubleshooting Guide
Your VPNUK account should work first time, everytime. If you ever experience any problems with your VPN connection the first thing we urge you to do is contact us on our Live Help service, we can offer instant assistance with all connection issues and get you back online.
Rose
(Cameroon)
says...
Was so anxious but after careful follow up of the steps, I got connection.
31st October 2017 5:42pm
Bright
(Nigeria)
says...
A real vpn company and ppl who know wat they are saying. Good
3rd October 2017 3:18pm
erik
(Nigeria)
says...
Best vpn ever used.
16th September 2017 8:44pm
ama
(Nigeria)
says...
Thank you for the instruction. I have followed your instruction and it works.
22nd August 2017 5:57pm
Sharry bN
(Pakistan)
says...
Good Job.. This is a perfect vpn for me. Thankyou
16th August 2017 8:29am
Fried
(United States)
says...
It works perfectly without getting any issue. Thanks for sharing this. Fried
23rd June 2017 12:54pm
francis
(Ukraine)
says...
It a very perfect Website for help
29th May 2017 11:15pm
Donhymax
(Nigeria)
says...
Works Good on my country, though am using Indian server, Now am getting deep web
11th May 2017 4:07pm
Tanveer
(India)
says...
Works well
3rd May 2017 2:54am
ibro
(Nigeria)
says...
it works good on my country?
19th February 2017 9:59am
brown
(DR Congo)
says...
I followed all the instructions and the vpn worked. very good
28th December 2016 12:12am
Serge Fariala
(DR Congo)
says...
Good connection, good vpn
25th December 2016 7:43am
Hendri Friando
(Indonesia)
says...
My phone is BlackBerry Q10.. very good ;)
6th December 2016 8:43pm
James
(United Kingdom)
says...
I've followed this guide to the letter on my Q10 and all I get is 'Connection error - Timeout'.
Any ideas?
VPNUK Says:
Which server address did you enter James? If you continue to have problems please come over to the Live Help service. The support team will be able to help.
22nd September 2016 4:49pm
mkay
(Nigeria)
says...
What I keep getting is connection error - DSN failure
VPNUK Says:
Hello, you need to have an account before trying to connect. Using our example username and password from the tutorial will not work. You can sign up to a free trial here: https://www.vpnuk.info/freeaccount.php
11th September 2016 4:24pm
Bobai
(Nigeria)
says...
Its cool
8th September 2017 1:42pm
baba valdes
(Nigeria)
says...
Good vpn, thank you
24th August 2016 4:32pm
ruiz
(Nigeria)
says...
I like it is good to me
9th July 2016 8:30pm
Ali
(Isle of Man)
says...
Hello, tank'U for all, please support for IP and email, tank you again.
6th June 2016 1:06pm
shey
(Nigeria)
says...
On the new update there is nothing like Gateway CA certificate
VPNUK Says:
Hello Shey, I am not sure what you mean? Did you miss the part that reads: 'Click here to download our certificate file.' in Step 1 of the tutorial. If you follow the tutorial to the letter, exactly as we have outlined, you will find the connection works perfectly. You must download the file to a 'computer' first, and then upload it to your playbook exactly as shown in the tutorial.
20th July 2015 9:16pm
nasser
(Oman)
says...
It wont connect
giving me a quick flash of disconnectingThe connection error timed outit is a BlackBerryQ10
VPNUK Says:
Hello Nasser, please ensure you follow the setup tutorial exactly as shown, the device should then connect without any problem. If you get a quick disconnect message pop up it usually means one of the settings is incorrect or you have not linked the certificate file correctly.
17th July 2015 12:36pm